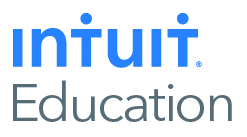 Take Charge Today has partnered with Intuit Education to create real-world simulations using Intuit's Mint and TurboTax. The Mint simulations are meant to be conclusion activities after teaching a Take Charge Today content lesson on the topics of saving, managing your money and credit, and can be done in 1 class period, or 30-60 minutes (except for the 3-day Budgeting for Income and Expenses Simulation option). The TurboTax Simulation is an assessment option in the Paying Your Income Taxes lesson plan.
---
Mint Simulations
1. How to Prepare
First, download the teacher checklist and the step-by-step how-to log in guide. We suggest going through the process before presenting to students.
*For extra assistance, watch the Mint Simulation webinar!
2. Steps for logging in to Mint
Show students the How to Log In Video or have them follow the Step-by-Step Guide to logging in to Mint. In the "real world", Mint uses personal information, but these simulations use the information of a fictitious person named Scott, so participants will need to log in to Mint in a specific way. The setup only takes around 5 minutes, but that will be the only time participants will need to follow these login steps, as long as they write down their login information and use the same computer. 
3. Introduction to Mint Simulation
Have participants do this opening activity to introduce them to Mint and the fictional user Scott before any of the other simulations. 
4. The Simulations 
After following the above steps, there are several simulations to use after completing Take Charge lessons on the topics of saving, managing your money and credit. 
*Created in collaboration with Take Charge Today, Intuit Education and Dave Cook, Illinois teacher.
---
TurboTax Simulation
Paying Your Income Taxes
There is a new TurboTax educational simulation, which allows students to practice filing their income taxes with fictional W-2's. It is the perfect pairing for Take Charge Today's updated Paying Your Income Taxes lesson plan and is an assessment option in the lesson. TurboTax website is closed from October 15-Dec 3, each year.
TurboTax Simulation Materials

  W-2 Scenario Options:

 

  Helpful Videos:
*For extra assistance, watch the TurboTax Simulation webinar
*Please note that the TurboTax simulation cannot be saved mid-simlulation and returned to. Ensure you have allowed enough time for completion. All available scenarios should be able to be completed in a class period.
*Please note that TurboTax and the IRS close from October 15-December 3 so this simulation will be unavailalble during those times, each year. There are alternate activities in the Paying Your Income Taxes lesson plan.